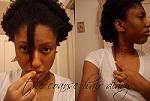 Growth Update!
Monday, February 08, 2010 |
6 comments
It's been two months since the last update! Sorry for the hiatus, lovelies. We'll be updating more frequently now. Anyway, I am one month away from my first year ful...
Read full entry →

Combing natural hair frequently can actually cause breakage, one-strand knots, and other problems. If you're natural, try finding a style that doesn't call for daily combing or invest in a seamless comb. Your hair will thank you for it! And if you do comb, remember to comb from ends to roots (and in sections for longer hair).