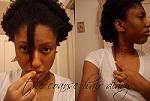 Growth Update!
Monday, February 08, 2010 |
6 comments
It's been two months since the last update! Sorry for the hiatus, lovelies. We'll be updating more frequently now. Anyway, I am one month away from my first year ful...
Read full entry →

A few months back, we were asked to critique some hairstyles for a website in the works and it has finally launched! It's called
Mopshots
and on the website, you'll find several different hairdo's and honest opinions of them from beauty bloggers. It's definitely worth a look!