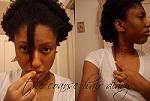 Growth Update!
Monday, February 08, 2010 |
6 comments
It's been two months since the last update! Sorry for the hiatus, lovelies. We'll be updating more frequently now. Anyway, I am one month away from my first year ful...
Read full entry →

Rachel Roy at a screening for
The Curious Case of Benjamin Button
earlier this week.