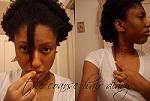 Growth Update!
Monday, February 08, 2010 |
6 comments
It's been two months since the last update! Sorry for the hiatus, lovelies. We'll be updating more frequently now. Anyway, I am one month away from my first year ful...
Read full entry →

Rating: Great! (10/10)
Product Name:
Aussie Moist Conditioner
Price Range:
$3.99-4.99 (13.5 oz)
Company:
Aussie Products (
http://www.aussieproducts.com/
)
Catch Phrase:
Accented with Australian Aloe it gives thirsty, dry hair a long and quenching drink for silky hair.
I got this conditioner a few months ago and have been using it for co-washing. Next to Suave Tropical Coconut, it's one of the best instant conditioners I've used in a long time. I even use it as a leave-in conditioner. The best part is that it has Jojoba oil in it! Has anybody tried it? Share your experiences!

Ingredients:
Water, Stearyl Alcohol, Cetyl Alcohol, Stearamidopropyl Dimethylamine, Glutamic Acid, Fragrance, Bis Aminopropyl Dimethicone, Benzyl Alcohol, EDTA, Ecklonia Radiata Extract (Australian Sea Kelp), Simmondsia Chinensis Seed Oil (Jojoba), Aloe Barbadensis Leaf Juice Extract, Methylchloroisothiazolinone, Methylisothiazolinone