written by Jacquette of Nappy and the City
Chris-Tia Donaldson
, native-Chicagoan, lawyer, and author of
Thank God I'm Natural: The Ultimate Guide to Caring for and Maintaining Natural Hair
has penned the most perfect resource and reference guide for anyone considering going natural or anyone who has been on their journey for years. Recently, I've gotten the opportunity to speak with Chris-Tia about her new book, personal views about natural hair, and her favorite things.
On writing her first book, Chris-Tia says, "It was devine intervention…definitely!" After the two of us joked about Chicago and the natural scene in St. Louis, I eagerly continued with more questions:
NSTL.com:
What can we look forward to from reading
Thank God I'm Natural
?
Chris-Tia:
This book is a comprehensive, well-organized reference guide that will answer every single question you have about natural hair.
NSTL.com:
How long have you been natural and what inspired you to go natural?
Chris-Tia:
I've been natural since 2002. What inspired me to go natural? It had to be money and time. Wearing my relaxed hair had become a healthy obsession. It didn't make sense to me to spend that much money and time on something so temporary.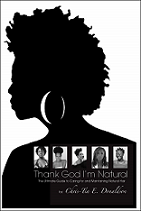 NSTL.com:
During your own natural journey, did you have any moments of non-acceptance with your hair?
Chris-Tia:
Oh sure. Even with family. They weren't initially supportive and didn't consider [natural hair] to be professional. My dad asked me, why are you doing this? Now, my dad says, "I really like your hair." He's even told me that he would tell his lady friends to wear their hair natural if they were younger.
NSTL.com:
In your full time career as an attorney, do you feel that natural hair is accepted in corporate America?
Chris-Tia:
You know, we [African-Americans] make it an issue. I always felt that if you make sure everything looks good in addition [to your hair], no one will think otherwise. If you make it an issue, other people will make it an issue. [In her book, Chris-Tia elaborates on this topic: "I found it much easier to be myself around my colleagues and clients sporting natural hair rather than with perms and wigs."]
NSTL.com:
Who is the book intended for?
Chris-Tia:
Thank God I'm Natural is a resource for people who are newly natural and natural vets looking for more information or inspiration. It's for black women in general.
NSTL.com:
What future projects do you have in the works?
Chris-Tia:
Right now, I am working on a product line [for natural hair]. For this, I have a vision and a plan.
For more information about
Thank God I'm Natural
, visit
www.thankgodimnatural.com
or purchase your autographed copy from Tginesis Booksellers online at
Amazon.com
.

An East. St. Louis, IL native, Jacquette "Ms. Quetta" Smith is an author who writes regularly for
www.nappystl.com
. She has a BA in English and future aspirations of publishing her first novel. Nappy and the City is a natural hair care blog that chronicles her "Natural Hair" journey and has features on various hair products, local salon reviews, and interviews with other natural women who love all things nappy. Jacquette currently lives in St. Louis, MO.
Website
|
Contact